Decorating A Kid's Room
The most important thing when decorating a kid's room is you want your little one to feel right at home in this space. This is the place that a child can call their own and will spend much of their time. Take into account what your child wants; it is their room after all. This is a fun bonding project for you to work on with your child, giving them the feeling that it is their room.
First, everything will be based on child's age. If they are a newborn, then the adult will be making all the decisions about color and theme. A crib and changing table will be the necessary furniture. A toddler will require a regular bed or bunk beds. A desk will be needed if they are attending school. Make sure the dresser and closet shelves are the appropriate height for the child to reach.
Pick the color of the room or the theme, and then make everything else ties together accordingly. Design will depend upon the gender and interests of the child. Paint it a fun color like pink or yellow. Bright colors are always good. If not sure where to start, paint the room your child's favorite color. You can't go wrong with that because you know they will love it. Once the theme has been chosen, base the bedding, curtains, and accessories off that. The closet shelves should be low enough that the child can reach his/her clothes. Make sure everything is safe. Cover electrical outlet with plugs if need be, and use rugs to cove wood flooring to avoid slipping. No fragile breakables should be put in the room. Put a sign on the door that says "Brandon's Room" to give them a sense of ownership. Borders or murals on the wall add a lot to the room. Place things on the wall like pictures or items like a surfboard. Put up pictures of the child with family and friends and artwork they bring home from school.
Theme Ideas:
Disney
This theme gives you all kind of ideas for boys and girls. Home Depot has Disney paint that you can purchase to make your child's room come alive. Accessories to go with the theme you are looking for can be purchased as well.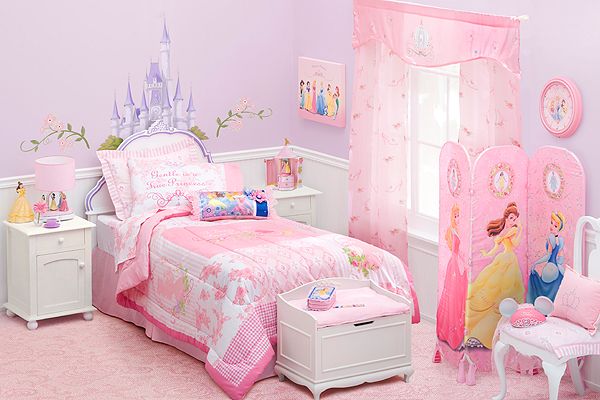 Race Cars
Get the beds shaped as race cars. Put up the striped flags on the wall and decorate the rest of the room with model cars.
Princess
This theme consists of the pinks and purples. A canopy over the bed adds a lot of flare.
Flowers
This will consist of more light colors to soften the room. Get a border with flowers and paint a white picket fence mural on one wall to give it a garden setting. Hang butterfly cutouts from the sealing.
Sports
This can focus on one sport individually that the child enjoys or sports in general. The color patterns can be that of their favorite team. Showcase trophies, baseballs, or footballs on the bookshelves. Put up a basketball net or have a soccer net hanging as a canopy.
Outer Space
Use a border with pictures of the planets. Have glow in the dark stars on the ceiling.
Movie Theme
Your child's favorite movie or character. Winnie the Pooh is good for nursery or Pirate of the Caribbean for the older kids.

Under the Sea
Paint the walls blue and get cut out fish or a border to plaster on the wall. The bedding can be blue with fish fabric for the pillows. They could have a small fish tank in their room as well. A fishing net can be hung on the wall for decoration and fish stuffed animals everywhere.

The room style is going to change as your child grows up and develops new interests/likes. Make sure it is easily changeable. And remember, this is a place that is going to be apart of their childhood memories when they grow up. Enjoy, and this is definitely a fun project to take on.
Related Article:
Paint Your Room