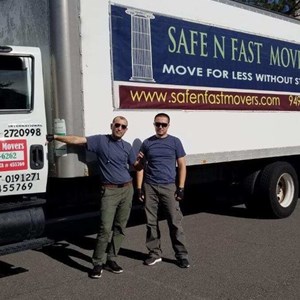 About Us
Safe N Fast Movers - your reliable and highly experienced local moving company. Ready to move your home or office fast and safe. You have furniture which needs to be assembled or disassembled? No problem our professionals will take care of that! We do provide a free quote for your local/long distance move! Always strive to help you with your move!
See more photos
Credentials
Licensed Business:
License Number
PUC 0191271
Issuing City
Orange County
Insured Business:
Policy Number
Available Upon Request
Policy Issuer
Safe N Fast Movers
Uniformed Crews:
I Offer Uniformed Crew Members
Yes
Workers Compensation:
Policy Number
Available Upon Request
Policy Issuer
Safe N Fast Movers
MC/State License:
MC #
1067319-C
DOT #
3342947
State Lic/Cert Name
MTR#191271
State Lic/Cert Number
MTR#191271
Reviews
No reviews yet.
How sad. But everyone has to start somewhere, right?
Service Area
We handle moves within 20 miles of 34 Clementine St, Trabuco Canyon, CA 92679.
Get To Know Us
What can a customer expect after booking with you?
At Safe N' Fast Movers, we are focused on providing a full range of home or office moving and packing services with the highest level of customer satisfaction and we do everything we can to meet your expectations. Our goal is to provide you with competitive pricing, excellent on-time service and stress-free customized moving experience. We are confident you will be happy working with us.
What can a customer expect on moving day if they hire you?
At Safe N Fast Movers Company, we believe that MOVING should be an exciting and stress-free experience. Our employees strive to deliver every move following 3 main principals: meeting and exceeding customer needs, demonstrating professional skills and behavior and making sure that safety comes first. Safe N Fast is passionate about helping you and your family to have a great move. Thus, one family at a time, we move "moving business" into positive experience category.
How should a customer prepare for moving day?
– So you've decided to make a move. Are you ready to box up everything you own – all the possessions that mean "home" to you and your family – and ship them to another part of the country? State? City? It's no wonder that moving is ranked among life's most stressful events. However, with the proper planning and preparation, you can make your next move a smooth one. These tips will serve as your "countdown" to moving day and hopefully give you a laugh or too (you'll need it).
What types of moves have you handled?
We provide the following services: free moving estimates e-mail and telephone confirmations full packing and unpacking services proper furniture protection and handling experienced, polite and efficient movers furniture disassembly and assembly residential to residential move within SoCal and nationwide moves within the same building truck loading and unloading storage unit pick-up and drop-off
What's your favorite part about being a mover?
We are here to serve you. We are not moving in the direction of quantity and are constantly looking for ways to improve the quality of our services. We look to create something that will remain for a long time. We, a close-knit team of professionals, will strive to make your move safe and fast.
What training do you provide your crew members?
I personally select and put through extensive training every company employee to assure that each person meets the high standards which we set up for our company and what our customers know us for. All our drivers and movers have clean background check, well trained and extensive experience and skills.
Safe N Fast Movers Moving Photos
Policies
Same Day Moves
We don't accept same day requests.
Next Day Moves
We don't accept next day requests.
Refunding Unused Time
We do not refund for any unused time.
Extra Hours
We cannot guarantee availability beyond the pre-booked time.
Face coverings and gloves:
Included in the rate, (always included, no fee)
Furniture dolly:
Included in the rate, (always included, no fee)
Hand tools for assembly:
Included in the rate, (always included, no fee)
Hand truck:
Included in the rate, (always included, no fee)
Plastic wrap:
Included in the rate, (always included, no fee)
Rope/Tie Downs:
Included in the rate, (always included, no fee)
Hours
| | |
| --- | --- |
| Sunday: | 8:00 AM - 5:00 PM |
| Monday: | 8:00 AM - 6:00 PM |
| Tuesday: | 8:00 AM - 6:00 PM |
| Wednesday: | 8:00 AM - 6:00 PM |
| Thursday: | 8:00 AM - 6:00 PM |
| Friday: | 8:00 AM - 6:00 PM |
| Saturday: | 8:00 AM - 5:00 PM |