How To Protect The Customer's Home
Doors and Floors
Things You'll Learn:
Why you should protect a customer's doors and floors.
What materials you should use and where to get them.
What parts of a customer's home need the most protection.
"Doors and Floors" is our eponymous jingle for the easily-forgotten but always-important process of protecting the customer's floors and door jambs against any incidental damage.
The benefits of doing the Doors and Floors Shuffle are twofold:
It reduces the likelihood of property damage.
It's a prerequisite for qualifying for any of Hire A Helper's EliteGold moves.
So reduce your claim payouts and increase your gross revenue by doing like the pros listed on HireAHelper:
First, the Floors
Look around the home and determine where the heavy foot traffic paths are going to be. Most obvious will be the hall leading to the front door. Rooms closer to the front door (or whichever entrance will be heavily used) can also become high traffic areas. In these places you'll want to make sure the floors are protected, against both scratches and (especially with carpeting) any dirt the crew may track in while going back and forth between the truck and the house.
Expense Saver
Cardboard works well as floor protection. But where to get it? Answer: keep a stash of used boxes from the unpacks you do. You can also offer to take away any boxes your customer no longer wants at the end of their move – you get a double bonus of free floor protection material and kudos (and a better review!) from your customer for cleaning up their new home.
One easy and eye-catching method of floor protection is using Neoprene floor runners. Most effective on hard surfaces, these suckers are tough, reusable and easy to roll out. They also have an adhesive quality so they are not prone to slipping or bunching up underfoot and do not need to be taped down. Check our moving supplies guide to find out where to get them. Then prepare to wow your customers, like Phoenix's very own Copperstate Moving (pictured below).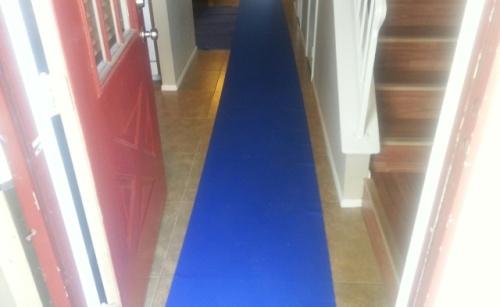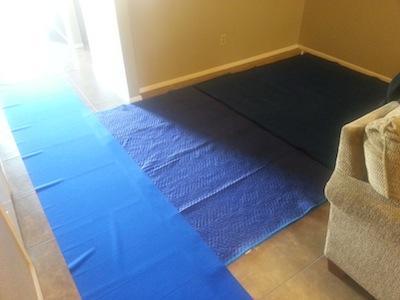 If you choose not to go with the neoprene there are alternatives. Tape vinyl runners or sheets of thick plastic to heavily-trafficked carpet, hardwood or tile floors. Or put down cardboard (used packing boxes work well, hint hint). Cardboard offers good protection against potential hand truck scuff marks and scratches while attracting dirt and moisture from the crews' shoes.
Safety Tip
Old furniture pads can be used for floor protection in high traffic areas, but it usually doesn't take long for them to become a nuisance.
Loaded hand trucks normally don't roll over them very easily
They rarely remain smoothly in place
And trying to tape them down is an exercise in futility
All this can lead to them becoming a hazard - and the last thing you want when the guys are carrying an armoire is for one of them to get tripped up in the folds of a bunched-up pad. Caution, awareness and common sense. They all add up to safety.
And Now, The Doors
Find doorways in the home where damage might easily and/or likely occur. As with floors, the doorways to focus on will be those in the most heavily-trafficked areas. Unlike with floors, there are not many practical methods of protecting door jambs.
Since anything strong enough to hold a furniture pad to a door jamb will also damage the walls (i.e. ridiculous amounts of duct tape)(or nails please don't!) or can end up in the way (like c-clamps), our only recommendation for doorways is to hook door jamb protectors around the door frames. These specialized pads have grabber things built right in so the whole shebang is self-contained and simple to hang and remove. You can find them under the Door Jamb Protectors section of our Moving Supplies guide.
While using door jamb protectors is necessary for you to start landing Elite Gold jobs, on regular moves you can choose instead to wrap furniture and other bulky, potentially damaging items in furniture pads before moving them. This will provide essentially the same protective effect as door jamb pads; just make sure the pads are wrapped tightly and securely in order for you to keep a good grip on the items as you move them.
Of course, being careful and exercising caution go a long way in avoiding damage to the customer's home. But we are all human, and bumps and scrapes happen. So do the Doors and Floors Shuffle. It's well worth the extra few minutes.
Don't Forget the Banisters
As any mover knows, staircases are prime locations for damaging nicks and scratches. Some of the biggest pieces in a customer's home come from the bedrooms - dressers, armoires, headboards - and unless the house is one story, or everyone likes sleeping in the den, you might have to move some fairly bulky and heavy items down a flight of stairs. And where there are stairs there are banisters, perfect for making a tough haul even tougher.
So, add banisters to your Doors and Floors routine by wrapping them in furniture pads, secured with duct tape if not the box tape you already have on hand for your pack jobs. Banisters are the third step in Doors and Floors, but it doesn't rhyme so we left it out of the name. Still, this is a vital part of protecting the customer's home and belongings, so make it a point to cover them up.
Even if you are not looking to do Elite Gold jobs (for now), Lashaun Lasley from S & L Express Moving recommends doing Doors & Floors because it wows the customer and shows just how professional you are. This will result in lower claims as well as fewer complaints. It might even get your customers talking to other people about how cool you are and will probably get you an even better review!!!