Plastic Wrap and Furniture Pads
The Big Cover-Up
Learn:
Pads - Damage Control
Shrink Wrap - Use, Benefits and Dangers
Cardboard - Full Protection
PLUS! Two quick lessons in wrapping furniture - with pictures!
Preparing, wrapping and moving furniture carefully and correctly is (or should be) among one of your top priorities on a move. This is not necessarily because certain pieces of furniture might rank among your customer's most loved and prized possessions, but because putting a tear in the customer's leather sofa can cost you big time. Naturally, we want to take care of every item we move. But, it also makes sense to want to pay special attention to expensive items - the customer doesn't want to see their priciest stuff damaged, and we sure as Sherlock don't want to have to pay to replace it. So take heed. And save everyone some grief. Grab that oversized roll of Saran Wrap.
Start With Paper or Cloth Paddding
Protecting furniture during a move should start with paper pads - or better yet the cloth moving pads you see in healthy stacks on any long-haul carrier. Of course, if your customer is moving out of the area and has not bought or rented furniture pads it is up to you, trusted mover, to provide the necessary protection. Protection that, once loaded on the truck, you will never see again - so make sure you are ready with paper padding. (On local moves you'll get all your stuff back so 'real' furniture pads would be the way to go.)
Shrink Wrap
On local moves the main benefit of shrink wrap relates to its protective qualities. Padding, whether paper or cloth, tends not to stay perfectly and snugly wrapped around large pieces of furniture. Shrink wrap will keep the padding nicely in place which, of course, increases the padding's effectiveness.
On long hauls or when the customer's furniture will be going into storage for a time, shrink wrap serves a secondary purpose - namely, to keep dust and dirt off the upholstery. There is an important caveat to this idea, however. Being overzealous with the shrink wrap can cause mold to form. Leave some air holes in strategic places - where the shrink wrap does not touch the upholstery and on the bottom side of the sofa or easy chair. Allowing the furniture to 'breathe' keeps moisture and mold from building up inside.
3 Shrink Wrap Fun Facts
As tough as shrink wrap is, it doesn't take much to ruin an entire roll. Drop it on the floor of the truck or roll it across the ground and you'll find that even a small tear or puncture will turn a twenty-five dollar roll of plastic into a maddening, incorrigible monster.
Pay attention to how you hold your roll of shrink wrap when you wrap something; the cardboard tube spins as you go, and can give your hands a nice warm friction burn.
Walking backwards and bent over around and around that sofa you are wrapping will make you dizzier than any hill you ever rolled down as a kid.
Shrink Wrap Warnings
Be extra careful with leather furniture! When going into storage or in the heat of a mid-summer move, shrink wrap can actually adhere to the leather. This is cool as a sort of science experiment but not so much as a moving experiment. By far your best bet is to keep cloth pads in between the leather and the plastic shrink wrap. For long hauls and storage situations you may have to default to paper pads. In either case, remember to allow for air.
For storage in extremely humid environments consider (or suggest to the customer) removing whatever shrink wrap was used for the moving part of the move. When wrapped and secured in place (with tape or mover's rubber bands), pads will do an adequate job of protecting the upholstery without encouraging the formation of mold and mildew.
Avoid Expensive Claims
Make sure to keep shrink wrap off of any wood surfaces integrated into the upholstered furniture. Do try to use it to keep the pads over any wood though, especially wooden legs which are highly scratch and ding prone. At the same time, avoid wrapping legs of any significant length too vigorously; put simply, legs break. Be nice to them.
The Big Cover-Up Exposed
A step-by-step furniture wrapping tutorial.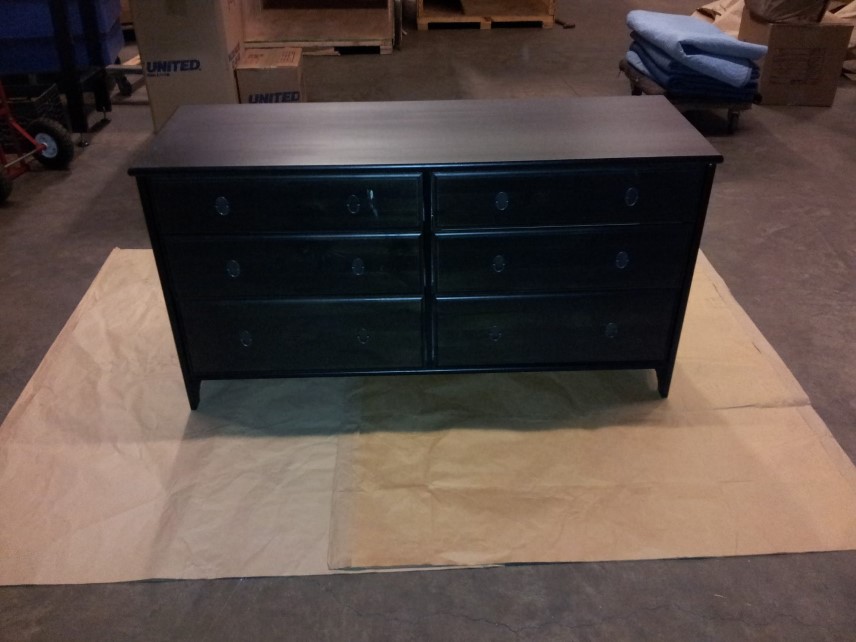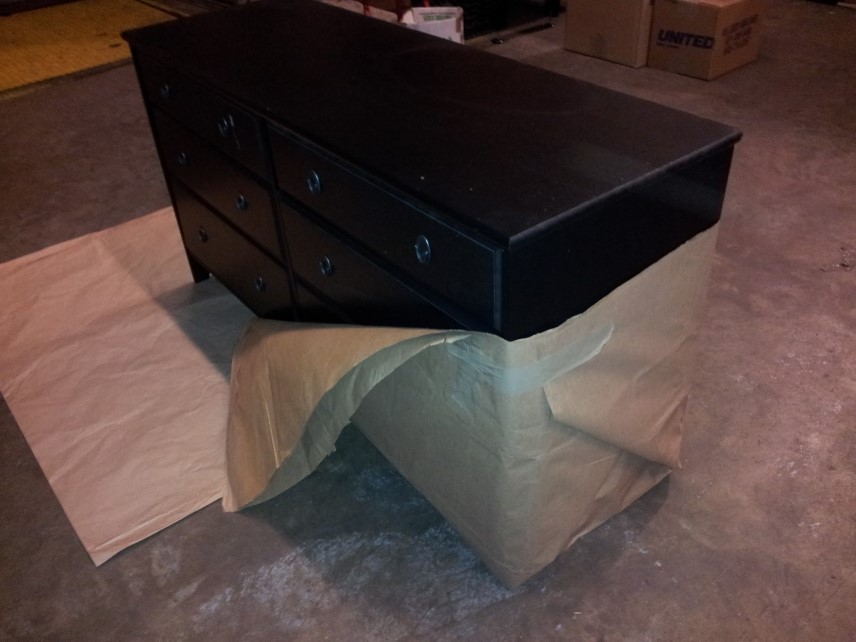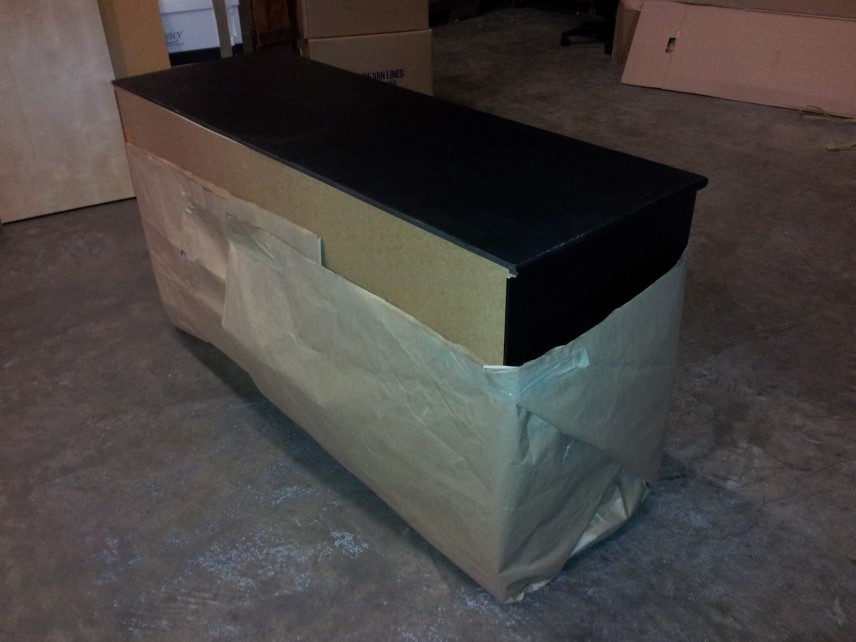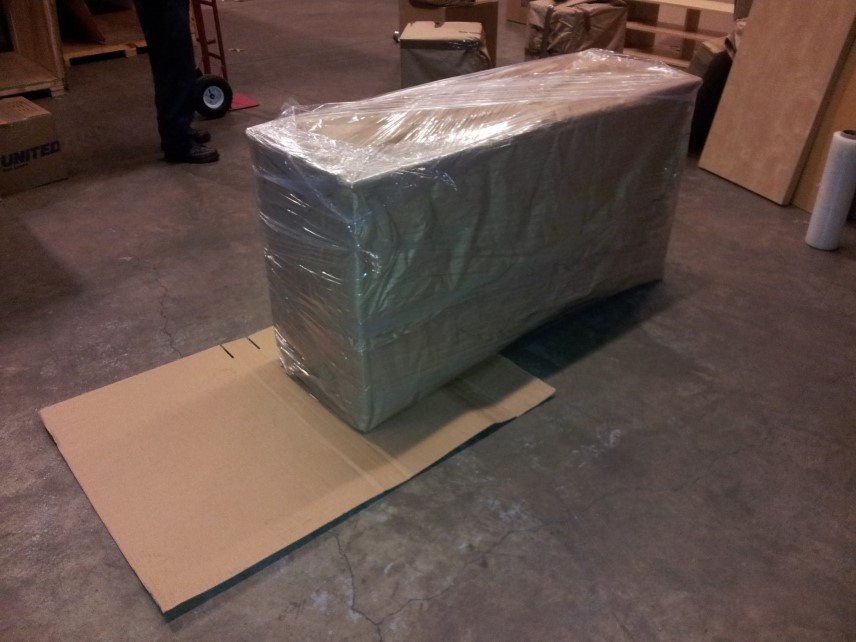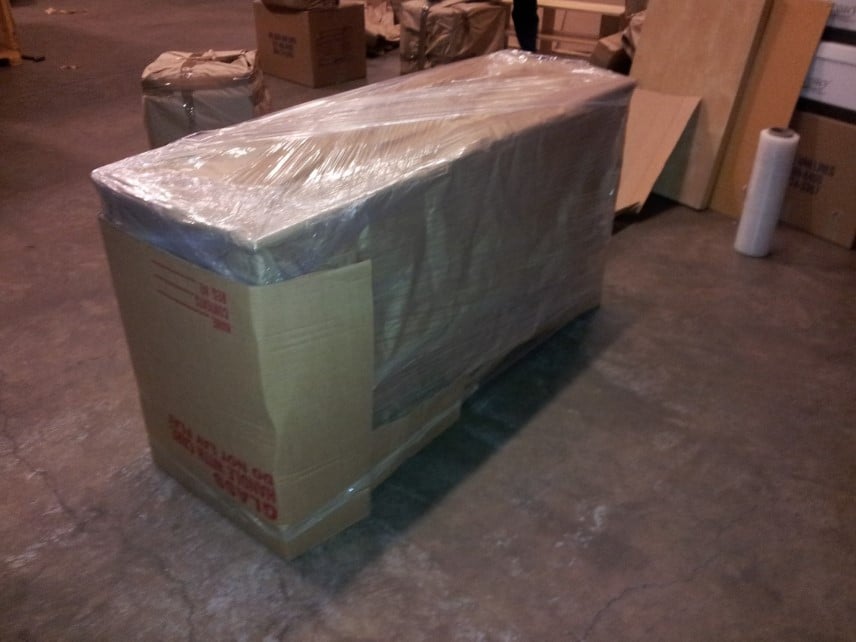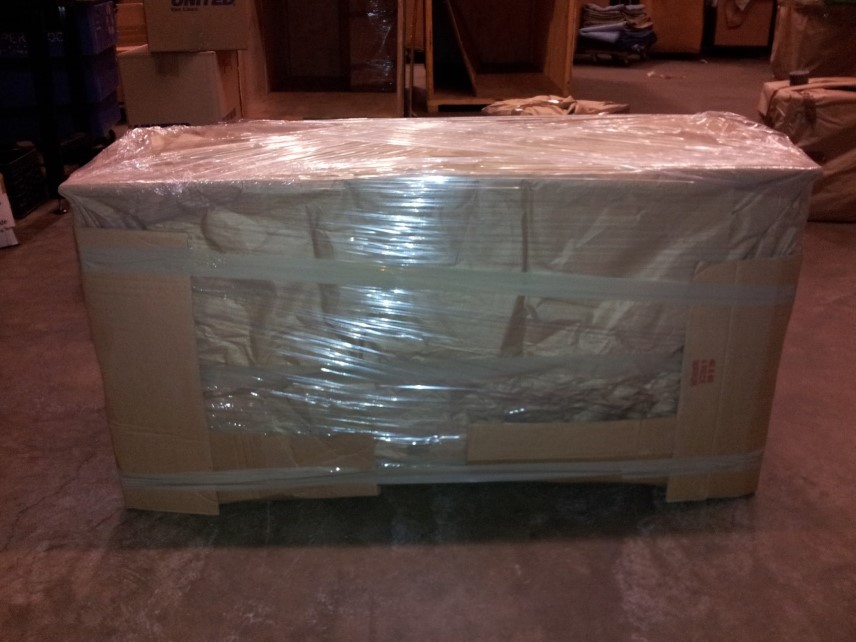 Note that we didn't put cardboard over the top corners. Doing so is certainly an option, as is leaving the cardboard out of it altogether. For a local move you may not need to go to such lengths. For a long haul, or for a move involving storage, you may want to consider going that extra mile for your customer.
Bonus Tutorial: Wrapping a Chair
Anyone who has tried to wrap a chair knows: It ain't easy. but watching our own pros at work we've learned a few things.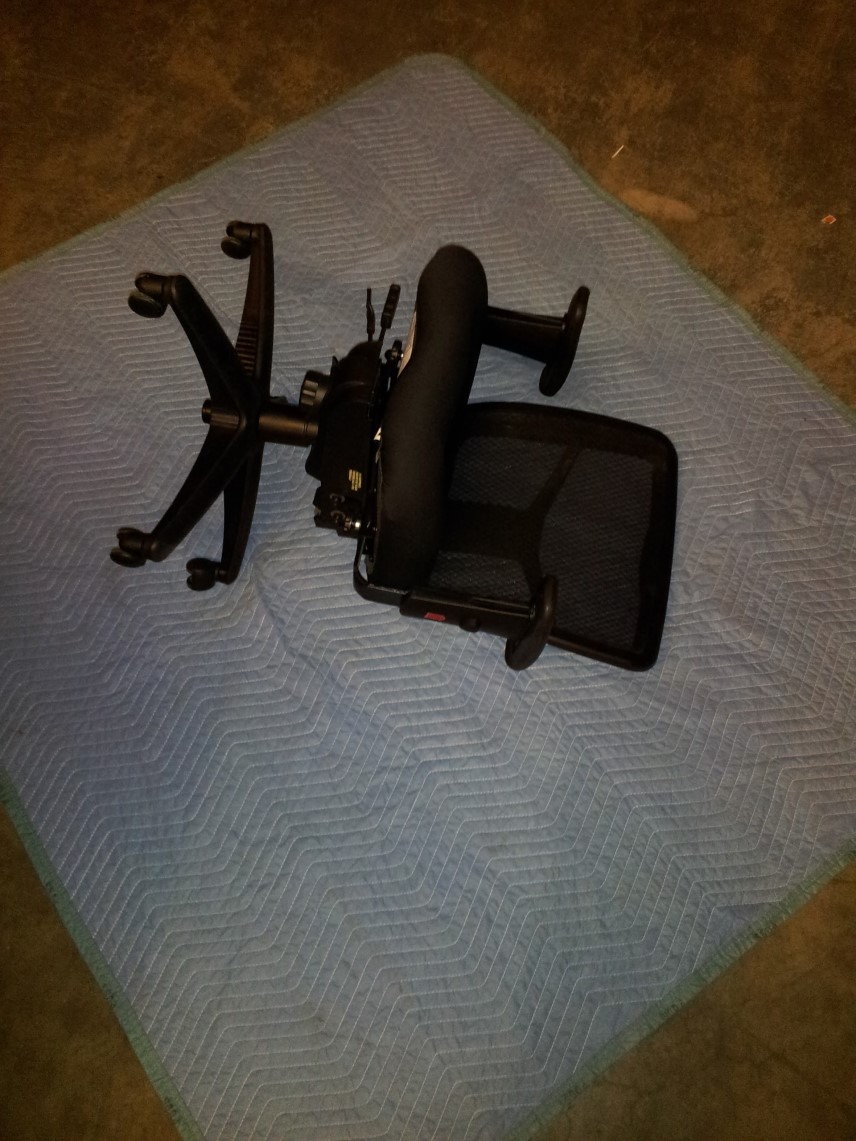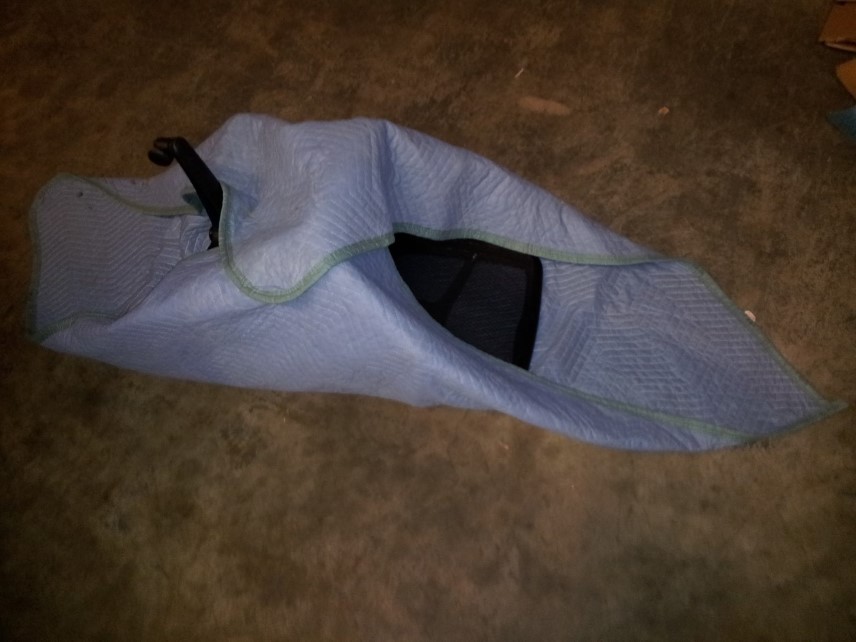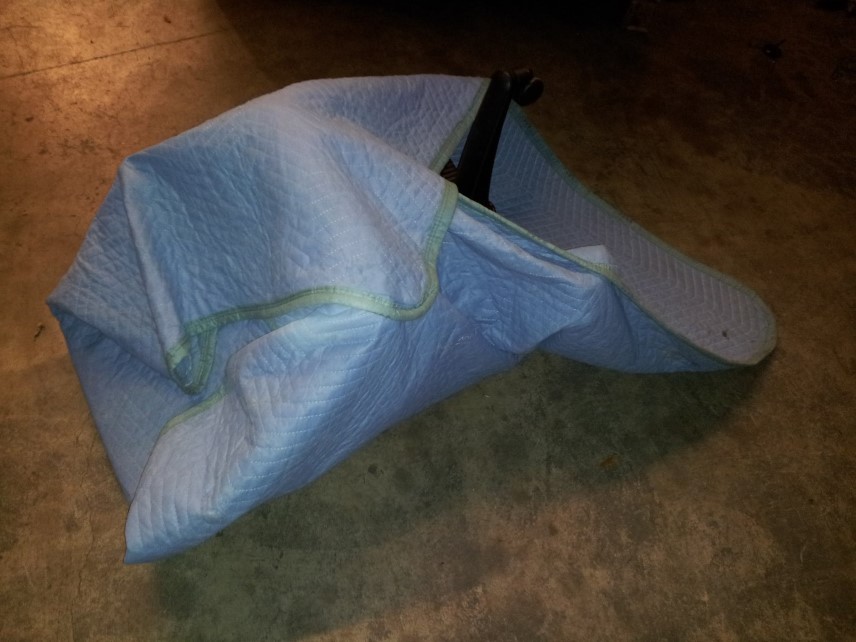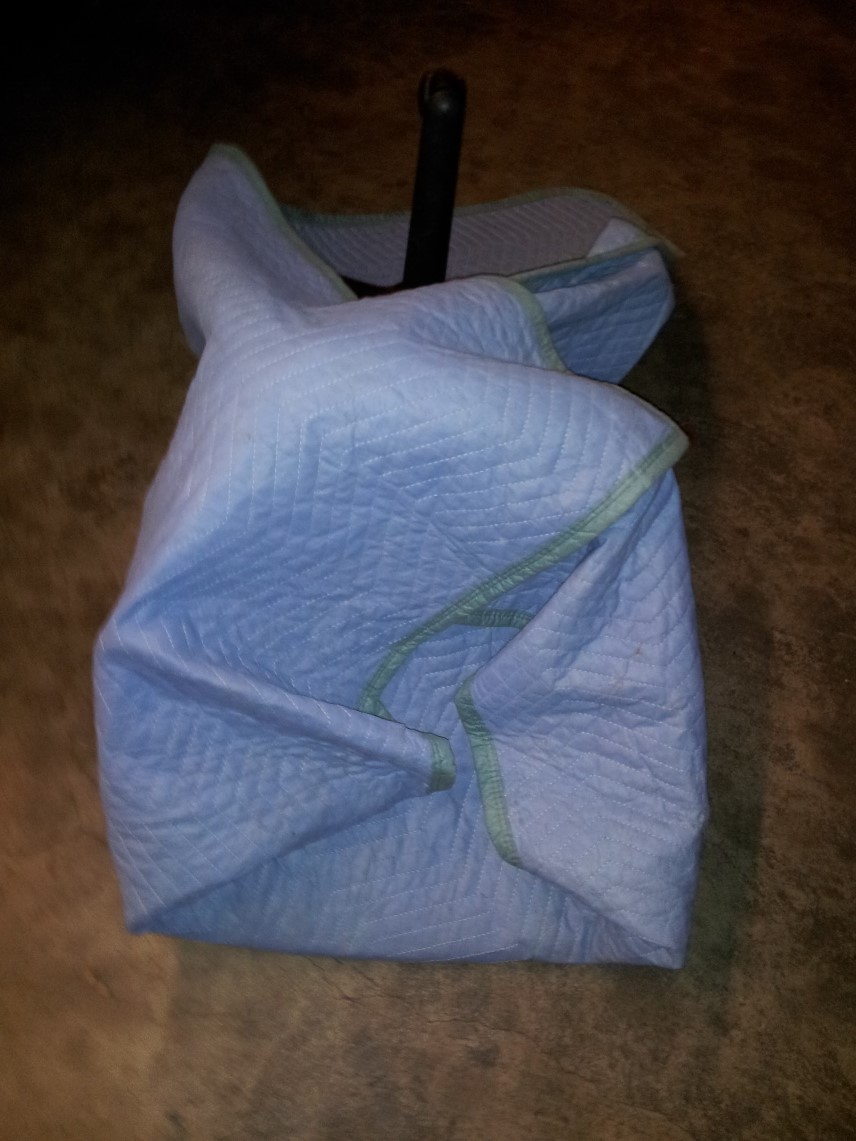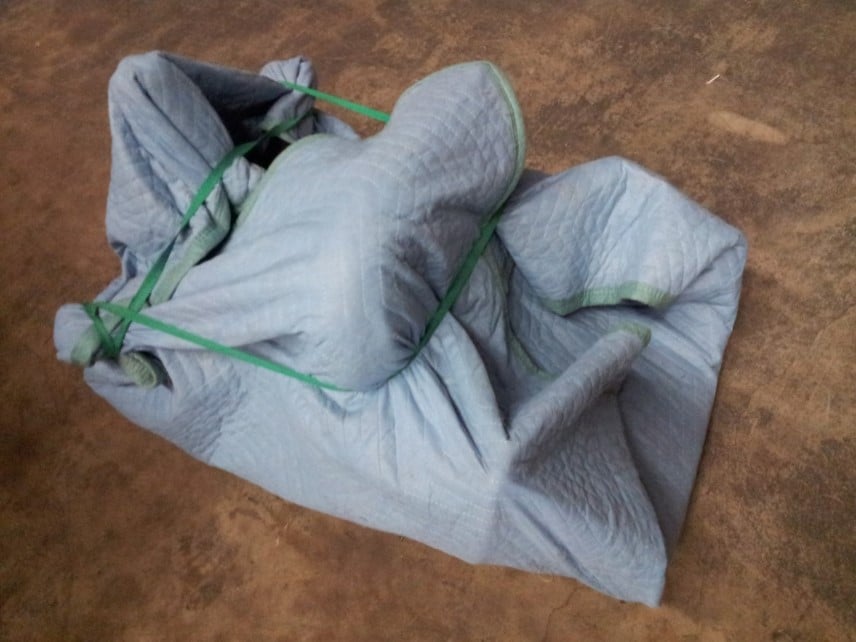 Note: this is an office chair with a five-wheel base. Your normal four-legged chair will allow you to bring the bottom corner of your pad up over the front edge of the seat - which may or may not present other challenges when trying to tape or band down your pad.
Chairs can be tricky. Starting off with an adequately-sized pad will go a long way.