Moving Boxes: Various Uses, Sizes and Types
The Package Deal
Learn How To:
Pick the right box sizes.
Use the right box on a customer's items.
Where to buy various box types.
'I'll carry boxes till I'm blue in the face,' I heard a guy on a job once say. 'But honestly, I can't stand packing them.'
People hire moving labor through Hire A Helper because they want to save money; we all know that a full-service move doesn't fit every budget. The DIY customer will often also do his own packing – a welcome thought for those who prefer a blue face to a pack job.
You likely will come across the opportunity to do some packing for a customer eventually, though. And you will want to be ready, in both ability and materials. We'll get to the ability part in a moment – packing a customer's belongings correctly and safely doesn't take a genius, but it does require some forethought, care and skill. But first let's run through the box basics:
Sizes
Book Boxes (1.5 cu. ft.) are designed to hold….books! Yes, the smallest boxes should be used for the heaviest items – books, papers, files, CDs, DVDs, record albums (some people still have them), canned food and tools/hardware. Pack them tightly since these cartons often end up on or near the bottom when the truck is loaded.
3-Cubes (3.0 cu. ft.) are used for clothing, small electronics, miscellaneous items from desk drawers and kitchen cabinets, small picture frames, shoes and many other medium-weight items.
Large Cartons (4.5 cu. ft.) are great for bulky items that do not weigh a whole lot for their size – bedding, pots and pans, sweaters, lampshades etc.
X-Large Cartons (6.1 cu. ft.) hold the largest items, and are mainly loaded toward the top of the truck so keep them relatively light.
Specials
Dish Packs
These double-walled, corrugated, 5.2 ft3 cartons are meant specifically for fragile items: dishes, plates, glasses, china, stemware, breakable table lamps and other delicate pieces of home décor. They can also serve to hold and protect computer and electrical components, picture frames, statuettes, large crystal and ceramic serving items, even small glass display cases and miniature, wall-mounted grandfather clocks.
Packed well, dish packs end up being quite heavy… and so, perhaps counterintuitively since they contain some of the customer's most fragile items, end up on the bottom of your tiers. But again, when items are packed correctly in their boxes, and the boxes are packed correctly on the truck, everything should survive the move intact.
Wardrobe Boxes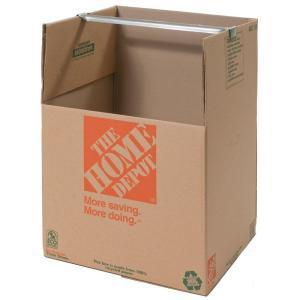 Not surprisingly, these tall, extra-thick cartons are used for hanging up clothes your customer does not want wrinkled or crumpled. Just tape and set it up, hook the metal bar * through the slots at the top and you are ready to start transferring everything from closet to carton. In a moment we'll get into the nitty-gritty of packing wardrobes (and every other type of box). For now we'll just mention that these suckers don't come cheap; last we checked Home Depot was charging $9.98 for the wardrobe in the picture. That's a good chunk of change to keep 24 inches worth of closet space wrinkle-free.
Get more bang for the buck by filling in the empty space at the bottom of the box with lighter items like shoes, hangers, even those miscellaneous closet items like vacuum hoses and hammocks. Just take care – these items will likely not be packed in there tightly and will shift and bounce around a bit during the move.
You can buy wardrobe boxes here:
Picture Frame / Mirror Box
That mirror with the gaudy gold frame on the wall above the sofa. The huge family photo where everyone has 80's haircuts. The painting in the den of the same ocean view in a thousand motel rooms. Grandpa's charcoal pencil art. Hey, don't argue, just take care of it!
The size and dimensions of a painting, mirror or picture frame call for a special kind of protection. Many places sell these flat cartons – which usually come as two interlocking pieces, meaning the variation in dimension is limited. Customizing these cartons to specific sizes takes only a pocket knife and a little creativity; or you can go to ULine for the same four-piece configuration the big guys use. Each sheet of cardboard is designed to fold into a corner piece, four of which will overlap to form a box that truly conforms to the height and width of the picture, painting or mirror you are packing. A tighter, more snug fit means better protection.
Pro Tip For The Perfect Fit
The big guys often use mirror cartons consisting of flat pieces of cardboard designed to fold into corner pieces, four of which will overlap to form a box that truly conforms to the height and width of the picture, painting or mirror you are packing.
These cartons are also great for packing glass shelving and glass table tops. Remember though, as with any box, padding the interior is crucial to protect what is inside – perhaps even moreso with large pictures, paintings, glass shelves etc. And just like those trucks that transport large sheets of glass on exterior racks, you need to pack your customer's mirror cartons vertically; never lay them flat as this exposes the structural weakness of the glass.
Get To Know The "Big Guys"
You should establish a rapport with these guys anyway. Sometimes they are strapped and need to find a few extra sets of hands, so why not give your crew another chance to make some money and improve their skills?
Stocking Up
Keeping a stock of cartons, correlated to the frequency of your pack jobs, is plain good business. They'll be there on hand when you need them, which means you'll be there for your customer no matter how short the lead time.
Order them online if you have time to stock up; grab an array of sizes and types. For immediate fulfillment stop by Home Depot, a U-Haul rental center or even try a self storage outfit. And don't forget the tape and packing paper!
Shop for what you need at: